Desktop PC Download
Windows 95, 98, ME, NT, 2000, XP, Vista, 7/8/10
Introduction
There are 2 versions of HandWallet that can run on a Windows PC:
1. The Android version.
2. Our legacy old version.

We recommend using our new version since it includes a lot of new features and you can sync the data with your phone or tablet. If you are already using our old version you can import all the data to the new version.


Running the Android version on the PC
1. Install Arc Welder from Chrome store using this link
Arc Welder
2. Download the
HandWallet.apk
file.
3. Start Arc Welder. Choose a folder to save your data.
4. Press the + where it is written 'add your APK' and select the apk file you downloaded.
5. Finally press the 'test' button. HandWallet will start and an icon will be added to your browser under 'apps'.
To start the app from now on press the new icon under 'apps'.
Tip: right click on the icon and select 'create shortcut'. After creating the shortcut you can start HandWallet from your desktop in one click.
Alternatively, you can use any of these emulators to run the Android version on the PC:
BlueStacks
Windroy
Download and install the legacy PC version

DOWNLOAD NOW
Last Version: 4.60
Date:
File: HandWalletInstall.exe
Size:
Press here for the user manual.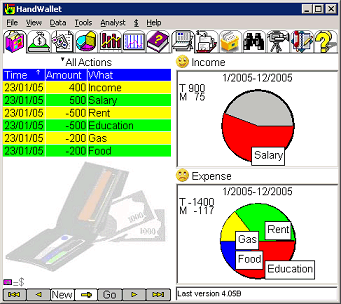 Microsoft™
,
Windows™
are trademarks or registered trademarks of
Microsoft
.